Time to share Two Great Shops!
and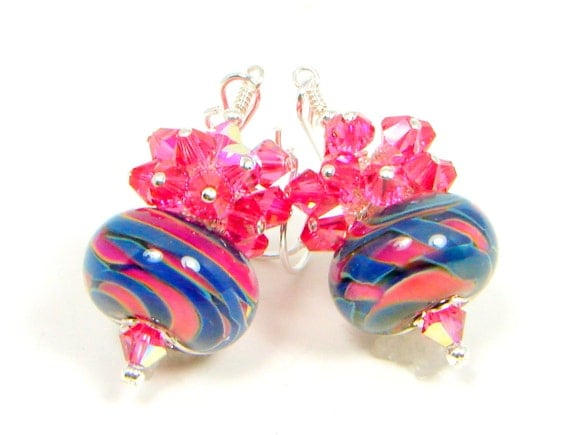 Pink Blue Earrings, Boro Earrings, Lampwork Earrings, Crystal, Stripes
X9mm Pink blue boro lampwork glass bead, sterling silver; indian pink ab swarovski crystals
These gorgeous lampwork earrings are made
with 15 X 9mm artisan borosilicate glass beads. The beads
have strings of pink and blue on top of each other
over layed with clear glass. Individually wire wrapped
swarovski indian pink ab crystals are clustered
at the top for extra sparkle. Sterling silver beads,
head pins, and ear wires finish these lovely earrings.
Handmade in my home studio with the best of
materials.
Length: (from top of earwire) 2 inches
See more at:
Jillsgems1.etsy.com
~~~~~~~~~~~~~~~~~~~~~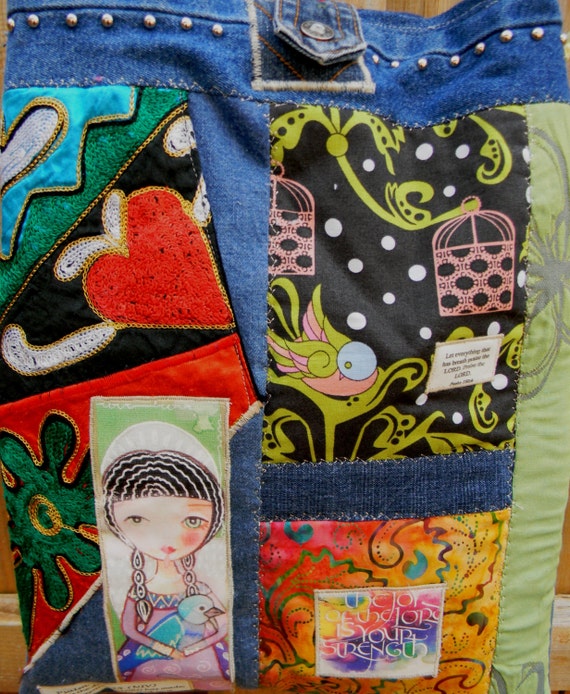 God Is Love Sling Bag
Express you faith on your arm!
This unique colorful patchwork bag is made from various fabrics in shades of purple, orange and greens. Each patchwork square is outlined with quilt stitching. This bag is made from re-cycled, studded and new denim, embroidered silk, home-dec fabric and cotton. The inner lining is made from a home dec fabric and lined with batting. This bag has a rhinestone jean tab enclosure and the interior has recycled jean pocket. The strap is a made from a recycled belt. The exterior is treated with Scotch Guard.
The scriptures and sayings on this bag are:
Color My World with Hope
There are three things that remain; faith, hope & love and the greatest is Love. 1 Corinthians 3:13
I Am and various other names of Jesus
God is Love
The joy of the Lord is your strength
Let everything that has breath praise the Lord. Praise the Lord. – Psalm 150:6
How awesome is the Lord Most High, The Great King over all the earth! – Psalm 47:2
Give thanks to the Lord, for He is good; His love endures forever. – Psalm 107:1
This is the day the Lord has made; Let us rejoice and be glad in it. – Psalm 118:24
My favorite part of making this bag is spreading the word of God. Hopefully someone will glance at this bag and think of Jesus if just for a moment.
This bag is a one-of-a kind Texan made from start to finish with love by me.
12" wide by 15" long
1 1/2" wide strap
15" strap drop length
Made in a smoke-free home
*Note: all measurements are approximate
~~~~~~~~~~~~~~~~~~~






Enjoy!<><