TIme to Feature Two Shops
Christian

A

rtists

P

romoting Shops
Inspirational Travertine & Wood Coasters, Tags & More!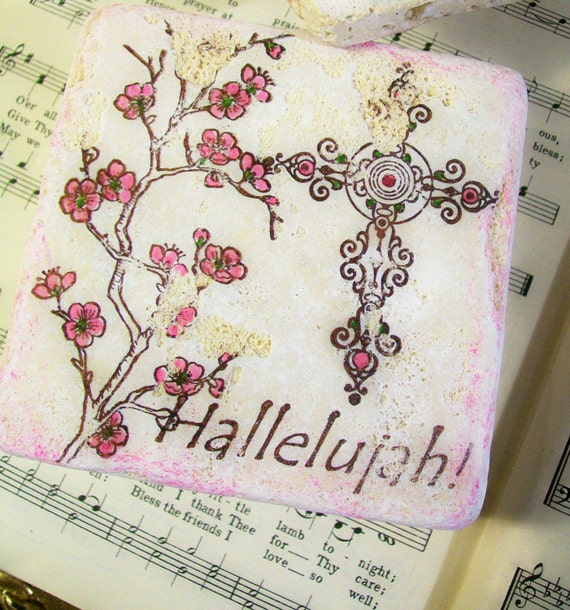 Travertine Coasters Hallelujah Blossom Pink Cross Stone Coasters Set of 4 Praise Coasters

Antiqued Set of 4 Stone Coasters Hallelujah Blossom
Nooks and crannies will vary per tile. I choose the best for each set!

***ALL TRAVERTINE STONE SETS(sets of 4) ARE SHIPPED PRIORITY MAIL.

This coaster set holds the image of a beautiful Cross and cherry blossom branch. Each coaster holds the praise word, "Hallelujah," also. This natural coaster has been hand-stamped, painted and inked with espresso and multiple permanent, and fade-resistant inks. It has also been heat-set for extra durability. Espresso gives this creation an antiqued appearance. Blessings!

Approximate size: 4.00"x4.00"
Stamped images and sentiment- inked edges
Felt footing to protect furniture
Travertine tile-natural stone
NATURALLY ABSORBENT
Stones are stamped and baked with permanent inks
Suitable for hot and cold drinks
Pet Free /Smoke Free Art Studio
All of my items are packaged securely for safe delivery.

C. Stevenson
Creative designs are copyright protected. All sentiments and prayers signed Prayer Notes are copyright protected. Copyright Prayer Notes by Cynthia, LLC
..................................................................................................
Cross My Heart Handbags and More

Christian Bag We Are Each Of Us Angels
Display your faith on your arm!

This crossover bag is made from denim...The font of this bag has an appliqued picture of an angel with the saying:

We are each of us angels with only one wing, and we can only fly by embracing one another. – Luciano de Crecenzo. This is sewed over flowered embroidered denim with an orange silk flower.

The interior is fully lined with recycled denim and fleece interfacing that provides stability. This bag has an interior recycled jean pocket. The strap is made from denim. This bag has magnetic snap enclosure. Bag is double stitched and sprayed with Scoth-gard.

My favorite part of making this bag is spreading the word of God. Hopefully someone will glance at this bag and think of Jesus if just for a moment.

This bag is a one-of-a kind Texan made from start to finish with love by me.

Measurements:

11"wide x 12"length
2 1/2" wide strap
21" strap drop

*Note: all measurements are approximate.
Follow
~~~~~~~~~~~
I am asking all our CAPSTeam members to favorite these shops, follow on twitter, and
♥

a few items.
~~~~~~~~~
Please tweet this post (button on right side bar)
Have a blessed day!