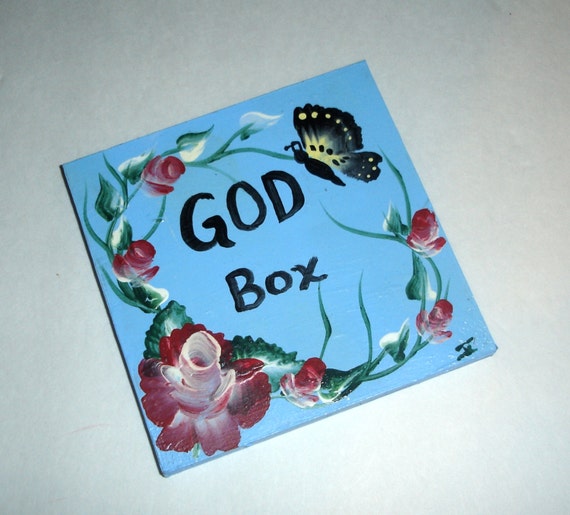 (I thought my item would be the
appropriate picture for today's post)
God's Boxes


I have in my hands two boxes,


Which God gave me to hold.


He said, "Put all your sorrows in the black box,


And all your joys in the gold."
I heeded His words, and in the two boxes,


Both my joys and sorrows I stored,


But though the gold became heavier each day,


The black was as light as before.



With curiosity, I opened the black,


I wanted to find out why,


And I saw, in the base of the box, a hole,


Which my sorrows had fallen out by.



I showed the hole to God, and mused,


"I wonder where my sorrows could be!"


He smiled a gentle smile and said,


"My child, they're all here with me.."



I asked God, why He gave me the boxes,


Why the gold and the black with the hole?


"My child, the gold is for you to count your blessings,


The black is for you to let go."



We should consider all of our friends a blessing.


Send this to a friend today just to let them know you


are thinking of them and that they are a joy in your life.



A ball is a circle, no beginning, no end.


It keeps us together like our Circle of Friends.


But the treasure inside for you to see,


Is the treasure of friendship you've granted to me.



Today I pass the friendship ball to you.


Pass it on to someone who is a friend to you...

~~~~~~~~~~
and this one too which I also received from
f

or sending me the above in an email!
I remember as a child, we had a morning

prayer in school before we said the Pledge of Allegiance each morning.
Then I remember that it became a "moment of S

i

lent Medi

tation".
A

t

some point, even that "moment" disappeared.
I don't remember what year it was.
D

o

you teach your children to pray?
I remember a couple years ago my heart (grandson) telling som

e

one

" If you want to know anything about Jesus,
just ask my G-ma, she knows Jesus."
W

hat a surprise to know how much affect I had had on him already.
Then the thrill of the VBS teacher telling me that he could have taught that class! She

told me she said "Jesus died on the cross" and my grandson, said "He is not dead! He arose!
You just need to have faith!"
That was a 7 year old telling a 72 year old all about Jesus.
Pray for our children in school.
Pray for our children at home.