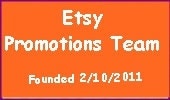 This "team" was formed when Etsy did away with the original promotion forum.
It's just about promoting your online items.
Absolutely NO MATURE items can be posted here.
If you post mature items here you will cause the linkup to close and all others who followed the rule will lose out on the extra promoting!
If you are on twitter, please follow us
Please follow this blog too. (Follow button on right sidebar).